DCFI @ Macy's | DC Fashion Incubator
PRESS ★ DC Fashion Foundation Launches Incubator at Macy's Metro Center
DC FASHION FOUNDATION LAUNCHES INCUBATOR AT MACY'S METRO CENTER
Washington, D.C. (September 8, 2015) — Today Macy's will unveil a fourth location of the highly successful Fashion Incubator program, in Washington, D.C. Officially known as the DC Fashion Incubator at Macy's Metro Center (DCFI), this City-established fashion design initiative will be devoted to supporting and promoting emerging fashion designers and encouraging local designers to grow and maintain their businesses in the Washington, D.C., metro area. A collaboration between the District of Columbia, We Are DC, Macy's Metro Center, Prince George's County Arts & Humanities Council and several educational and international institutions devoted to fashion design, the DC Fashion Foundation presents DC Fashion Incubator at Macy's Metro Center (DCFI), a 501c3 organization created in 2009 by the Founder & President, Christine Brooks-Cropper, to provide designers the workspace and essential business resources needed to run successful and sustainable fashion companies. "We are very excited to welcome DCFI to our Macy's Metro Center store in Washington DC," said Terry J. Lundgren, Chairman and Chief Executive officer of Macy's Inc. "DCFI at Macy's Metro Center joins an elite portfolio of Macy's stores in downtown Chicago, Philadelphia and San Francisco, that have successful City-established Fashion Incubator programs in residence." Additionally, he noted "As an advocate for creating a strong support system for emerging designers to succeed in the fashion marketplace and to strengthen local economic development by fashion businesses, I am very proud of Macy's commitment to dedicating talent, training and workroom space where available within our stores.  This is a cooperative effort between public and private partnerships and these locally-based Fashion Incubators are essential to helping designers build their brand and sustain a business in the fashion and retail industries." The DC Fashion Incubator at Macy's Metro Center is the latest addition to other successful city-initiated Incubator programs that have been established throughout the country and have taken up residence within a Macy's store. The year-long program at DCFI will provide the selected Designers-In-Residence (DIR) with office space, a production room and shared showroom space/conference room. "I am proud of the DC Fashion Foundation and our partnership with Macy's to support emerging artists in the fashion industry.  By investing in the next generation of DC fashion innovators and entrepreneurs, we will give them opportunities to grow and thrive in the District.  This is a boon to our creative economy and yet another example of how this Administration is creating pathways to the middle class for all District residents," said D.C. Mayor Muriel Bowser. DIR will receive mentoring from industry and business professionals in addition to a significant schedule of seminars and workshops dedicated to the global business of fashion. Workshops will include topics on creating a business plan, marketing strategy, and identifying legal needs and funding. The tailored curriculum will be offered by community leaders, industry experts and fashion insiders. The 900+ square foot space will be located on the fourth floor of Macy's Metro Center. "The DC Fashion Incubator is committed to supporting and investing in the emerging local fashion industry. Our goal is to foster the growth of designers as leaders of small businesses, by providing the training, mentoring and resources designers they need to be successful," says Shaka King, executive director of operations at DCFI. Designers selected by the DCFI's Selection Committee which consists of representatives from local fashion and business sectors. The 2015 class consists of six locally based designers and two designers from Peru and Ghana, Africa through a cultural business exchange program between those two countries and the District of Columbia. This international arrangement is the first of its kind for the Incubator program. "We want to ensure that all of the DCFI Designers in Residence adopt a global view of the fashion industry, and our designers from Peru and Ghana will help develop a unique cultural exchange that will benefit the entire class as they prepare to take the fashion world by storm. We are proud to have PromPeru and the Frallain African Fashion Fund as our 2015 Cultural Exchange Partners," Alida Sanchez, DCFI retail and international development director. Sponsors of The DC Fashion Incubator at Macy's Metro Center include: The District of Columbia Planning and Economic Development Office (DMPED), the U.S Small Business Administration, We Are DC, Macy's Metro Center, American University, Covington & Burling Law Firm, Burson-Marsteller Global PR Firm, PromPeru, Frallain African Fashion Fund and Prince George's County Arts and Humanities Council. To learn more about sponsorship opportunities, program details, and application process for The DC Incubator at Macy's Metro Center, please contact Christine Cropper with the DC Fashion Foundation at christinebc@dcfashionfoundation.org.
★ ★ ★
Our Mission
T
he Goal of the DC Fashion Incubator is to support the local emerging fashion market, by identifying and providing business mentoring, seminars and workshops as well as technical design support. We are here to assist fashion entrepreneurs, develop infrastructure support and a well-rounded skill set.
What is an Incubator?
A fashion incubator is a "think tank for designers"—a space designed to accelerate the growth and success of a fashion designer, through an array of resources, business support, network connections and services.
DC Fashion Incubator
Our one-year program provides shared work space, shared showroom space, business mentoring, retail opportunities to pitch your collection to buyers and investors, publicity opportunities, small business technical assistance, technical design assistance, seminars/workshops in fashion design & commerce, financial planning, business planning, business registration, branding assistance, networking opportunities, as well as legal and business assistance, for our designers to connect with factors and seed capital investors.
The DCFI Process
There is a selective process to choose participating start-ups and established companies in the DCFI program. 

The DCFI Board and a team of industry professionals judge all applicants based on a criteria.

There is a required 3-year minimum in business and 7-year maximum in business.

Designers must commit to the required 35 hours per week of Incubator usage. 

 

Applicant must be 21 years of age or older.

Applicants must reside in the District of Columbia or Prince George's County.

The application MUST be submitted to the DCFI Review Panel in digital form only.

There is a $75 application fee.
[ The application contains the full requirements list ]
Designers In Residence 2017
Program Overview
Six to Ten Designers-in-Residence (DIR) chosen annually by a selection committee. (6-DC Metro Area Residents & 2-International partners)
Application selective process to choose participating startups.
Our Program Provides . . .
Shared Conference room /Showroom and
Design Studio Work Space equipped w/industrial sewing machine & finishers, steamers, cutters, shears, full length cutting tables, oak tag pattern paper, sketch pads, sewing accessories etc….
Curriculum/Seminars/Workshops in fashion design, boutique ownership, e-commerce, buyers presentation, collection development, trend forecasting, line sheets, wholesale & retail pricing, fashion collection/product development, fabrications, fashion illustration, developing a look book, quality control of production, finishing & detail in design, pattern making, fashion show coordination, working w/a stylist, styling your collection, presentation development
Curriculum/Seminars/Workshop in business & financial planning, projections, accounting, business registration, trade marking, incorporation, how to create a marketing budget, branding, social media development, press release, press kit development, website development, finance & accounting, domestic and overseas sourcing, distribution, financial planning/reverse cash flow, copyright & trademark protection, sales, distribution and trade shows.
Retail opportunities.
Publicity opportunities.
Social Media Management & Branding
Small Business Technical Assistance
High-growth and tech-driven startup mentorships and commercialization assistance.
Regular networking opportunities offered to startups.
Introduction to buyers, partners, suppliers, mentors and industry professionals.
Resource sharing and co-working arrangements for startups.
Opportunities to pitch Designer Collections to buyers and investors.
Business assistance to Designers to connect and submit application/business plan to factors, seed capital or structured loans for startup capital for clothing line or fashion business.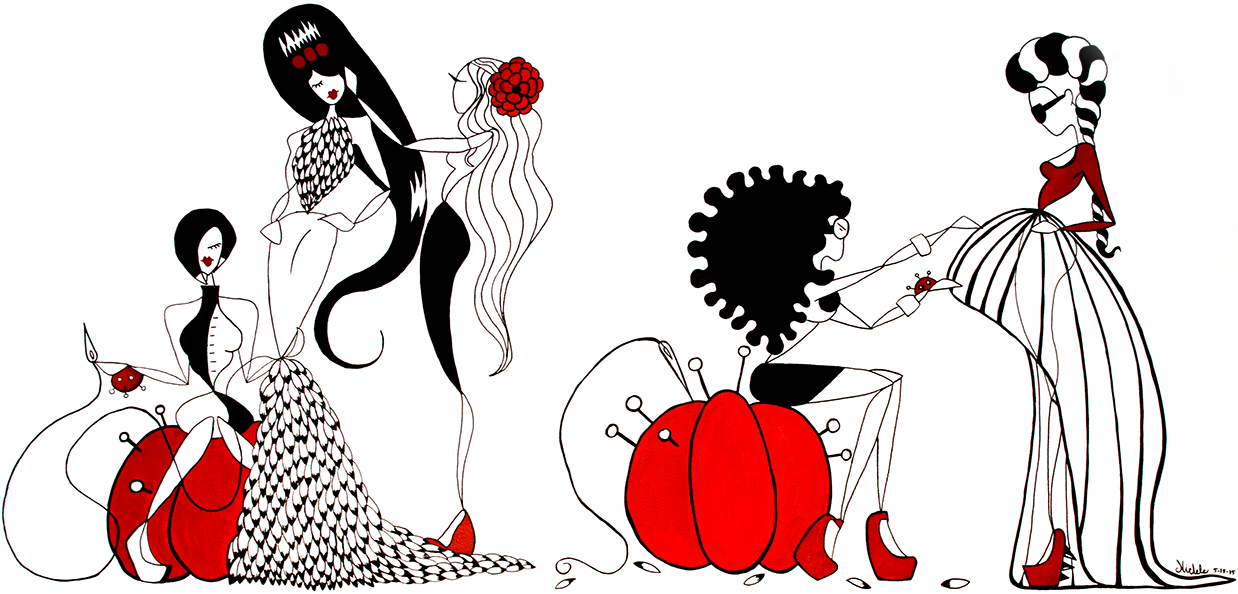 Click to expand recent sponsors